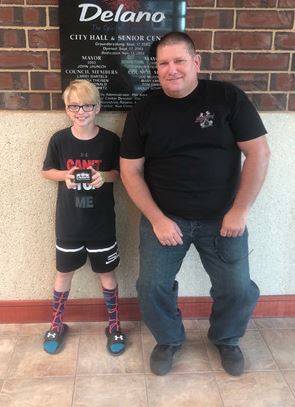 Jun 28, 2018
The 2018 edition of the Granite Chip Scavenger Hunt is complete.

The Granite Chip was found on Wednesday, June 27th by Jacob Olson and Jerry Wunderlich. They won $100 cash from the Delano Fourth of July Committee.
The chip was hidden in Krienke's Woodland Road Park, off of 1st street west. The chip was wrapped in a brown bag and hidden in the wood chips near the park's playground.
These were the clues that the winners used to find the chip:
CLUE #1 – Monday, June 25, 2018
The fourth is almost here,
We're about to start the race.
Take a second to uncover the Granite Chip, (chip was disguised in woodchips)
And you'll come in first place. (first = park entrance is on 1st Street.)
CLUE #2 – Tuesday, June 26, 2018
Make a playdate, have a picnic, (park location)
You'll have to "brown-bag" it. (chip hidden in brown bag)
The fourth is a busy time,
The whole town is swamped! (the park is near a large swamp)
GRANITE CHIP CLUE #3 – Wednesday, June 27, 2018
Make your way towards the circle (the playground is enclosed in a circle, chip hidden against circle)
All are welcome to seek the prize (sign says "Welcome to Krienke's Woodland Road Park)
Drive in to Delano (park located just west of Peppermint Twist Drive In)
And unearth your camouflaged prize. (chip hidden in wood chips)